RealT Joins Up With WiSEED And Twenty First Capital To Provide Blockchain Real Estate Investment In Europe
If you've paid any attention to the DeFi space over the last few years, you've undoubtedly heard of the many companies working to digitize many traditional investing avenues to create a more democratized system of wealth generation and a stable hedge against a chaotic market. Paintings, precious metals, and even collectors' items like wines and firearms can all be found in the DeFi marketplace, allowing investors to buy up a percentage of ownership in the form of blockchain-backed digital tokens.
Real estate, the traditional king of asset investiture, is no stranger to tokenization. DeFi company RealT has been buying up rental properties all over the United States for tokenization for years, allowing investors both a stake in the total value of the property and a share of the rents paid by the tenants in the building. So far, RealT's tokenization of rental properties has been limited to the United States – but that will soon be changing, as the company recently announced in conjunction with France-based WiSEED and Twenty First Capital.
With complementary expertise on these subjects and status as reference players in their respective fields, RealT, WiSEED and Twenty First Capital have decided to join forces to create a consortium. Their common goal: to become the leader in the real estate tokenization sector in Europe.
As real estate prices continue to skyrocket across the Western world, owning any kind of property is beginning to look unattainable for many in the younger generations – at least through traditional investing means. Tokenization, however, allows those would-be investors to get in on the action at a much lower up-front cost, allowing them to contribute to, and benefit from, a potential marketplace with a value that can be measured in the trillions.
…The real estate tokenization market is estimated to be worth around $300 billion today. Estimated to be around 300 billion dollars worldwide today, this market could exceed 1,000 billion dollars in 2024 and approach 4,000 billion by 2029, offering significant development prospects in France and more broadly in Europe. To achieve this, four key factors must be combined: regulation, technology, real estate expertise, and community.
With that kind of potential, what's been stopping RealT from investing in European properties until now? In short, the complex interplay of international business regulations and law has made the jump across the pond a daunting task, which is where the Triumvirate between RealT, WiSEED, and Twenty First Capital comes into play. Each company will bring in a set of skills and resources that will make the consortium a fearsome competitor in the European market:
…RealT, a pioneer and global leader in real estate tokenization, will bring its experience, skills, technological innovations…WiSEED, pioneer in crowdfunding, particularly real estate, in France, will contribute its skills in project selection and regulatory compliance…Finally, Twenty First Capital, which manages nearly 2 billion euros of real estate assets under management and 16 funds, will contribute its recognized and proven experience in real estate investment and its in-depth knowledge of all market segments to the consortium.
Consortium Operation Scheme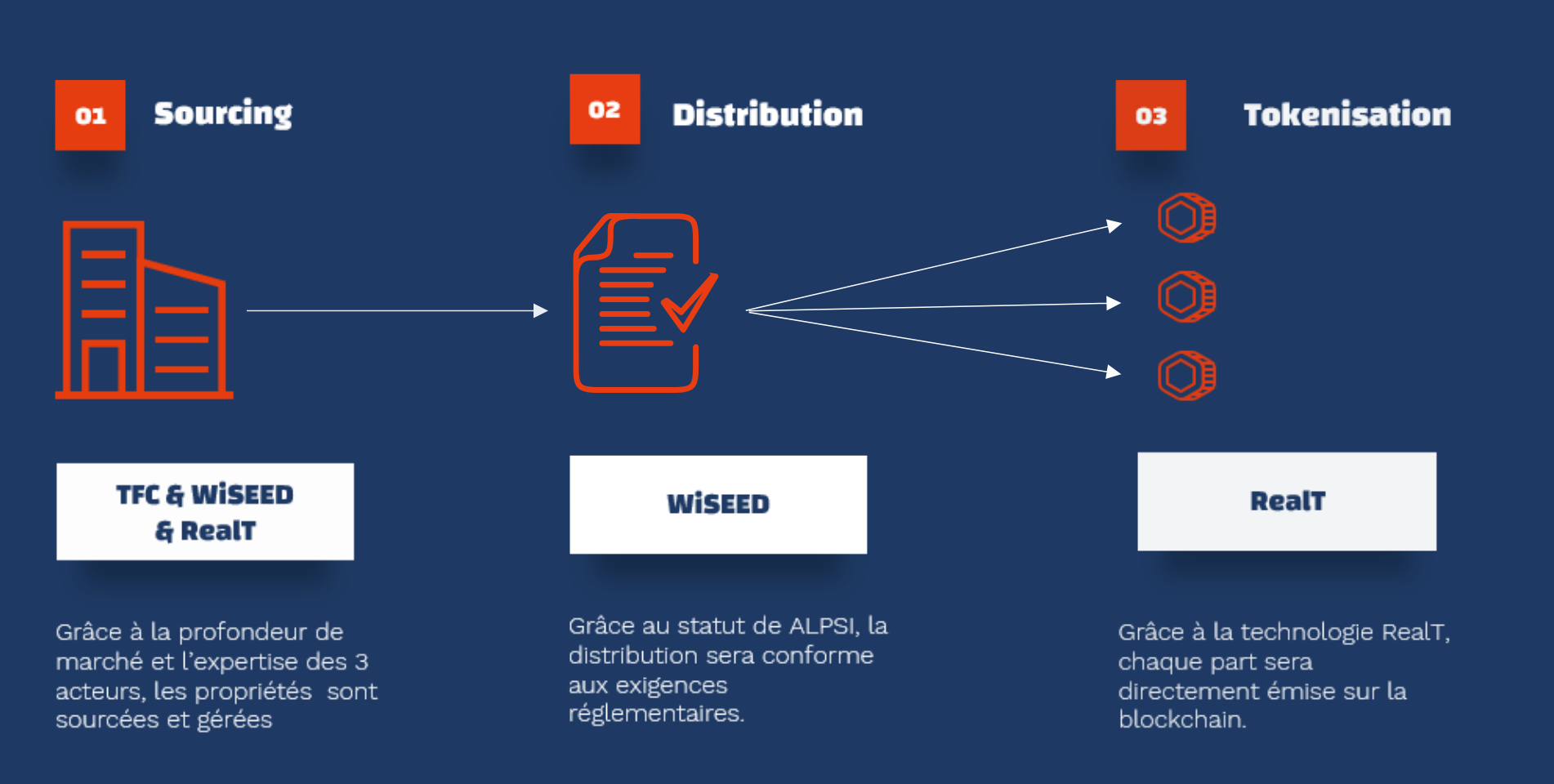 The consortium will acquire and divvy out property using a three-act structure. The three companies will work together to source the real estate, finding rental properties all over France that are deemed appropriate by all three parties to comport with their various expectations and regulatory requirements.
Next, WiSEED will work with the relevant regulatory agencies in France, including ALPSI, to ensure the properties and business operations are entirely compliant with French and greater EU law. This represents the most complex step, as regulations regarding investments and real estate are highly complex.
Finally, once the property and business operations are registered and deemed compliant, RealT comes in with its experience and technical know-how in fractional real estate to tokenize the property. At this point, investors can begin buying up shares of the real estate and earning monthly rental income commiserate with their percentage of ownership.
The end goal, according to co-founder of RealT, is allowing investors of all stripes access to markets across the globe.
"…This first major partnership strengthens RealT's vision, which aims to establish strategic collaborations on each continent. An investor can thus diversify his asset portfolio, by buying a fraction of a loft in Chicago, a share of a vacation residence in Panama, and soon, a piece of Paris or Saint-Tropez, all from his smartphone."
While we're still a ways away from being able to use a DeFi app to own a little sliver of land on every continent, this development brings us that much closer. Keep an eye on further developments, as the DeFi space is sure to continue to expand outwards from its new beachhead in France in the coming months and years.